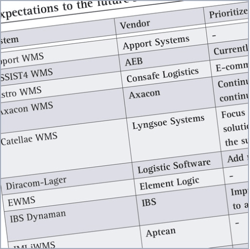 WMS in Scandinavia
- An independent analysis and market overview of WMS systems in Scandinavia. Learn more...
Language: English
Description
If you would like to know more about the content of the report, we invite you to download an extract of the report that includes:
Description of the report

Table of contents

Preface including 1 page of chapter 3, Executive Summary
Please share your information and within a few minutes, you will receive an email with a link to a PDF document. This service is free.
We hope you will find our research valuable and look forward to receiving your order of the complete report soon. In order to complete your submission for the free extract, please fill in the form above.